Search engine optimization brings visitors without click costs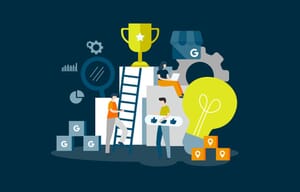 Directly behind the paid Google ads (Google Ads) appear the organic results. With search engine optimization (short: SEO) it is possible to reach these positions and get clicks and relevant visitors without having to place ads. Since these visitors often have a specific need and very targeted intentions through their search queries, they are especially valuable when it comes to getting new inquiries or selling more. This qualitative traffic is still very focused on the target via the conversion rate optimization on the website afterwards.
While with Google Ads you can place ads at any time, in this area you need a clearly defined strategy that will continue to improve the website over time and thus improve the overall value of the site in addition to the individual placements. Here, in addition to visual incentives to buy and usability, content also plays a major role. Only what is communicated on the website can also be used by Google and other search engines for rankings. The content itself has the desired effect when, first and foremost, the user and, in the second step, Google find what they are looking for. Everything else is a plethora of technical measures that ensure that the website is easier to read, has a logical structure and that the right content appears in the search results in the end. The system does not matter at first, no matter if you use WordPress, Joomla, Typo3 or other systems.
Through the interactions of the users on the website, Google can see in the end very precisely which content has relevance for the user and will incorporate this into the positioning of the search results.
Since search engine optimization does not incur any additional costs, it is always worthwhile to improve this channel in order to achieve long-term success.
What is the benefit of search engine optimization for my company?
With SEO you can present your brand in an eye-catching way, be found locally or generate additional reach on topics that are important for your business. Organic traffic is also very high quality and – compared to paid search advertising – saves a lot of money in the long run. In the marketing mix, we consider this performance channel to be absolutely essential. Therefore, it should not be neglected under any circumstances.
How can Hello Performance help?
SEO is a matter of the heart for us, as we grew up with it. We were there from the beginning when Google was still trying to find itself and over the years kept changing the algorithm, refining the rules over time and making optimization more difficult. Since the core of how Google works is not disclosed, it goes beyond the basic technical measures to empirical values that we have received in hundreds of projects in total. This usually allows us to see very quickly what absolutely needs to be improved in order to fully exploit the potential. No matter if regional, nationwide or even international. In doing so, we basically consider SEO as a performance channel and therefore also speak of "performance SEO".
From the initial analysis or the necessary measures, the long-term strategy is derived, which is recorded in a project plan and gradually implemented. Each individual step ensures that either individual search terms or even the entire site gain in value and thus the natural rankings increase.
---