If you offer products and services at a regional location, you probably don't want to live only from your regular customers. Therefore, it is important to be visible in the search engines for potential new customers for appropriate search queries.
Why is local search engine optimization important for your business?
According to a study conducted by Google, 50% of smartphone users who searched for a local business in the search engine visit it on the same day. For computer or tablet users, the figure is as high as 34%.
50% of smartphone users visit a store on the same day after performing a local search. Therefore, Local SEO is important for any business n with a regional location.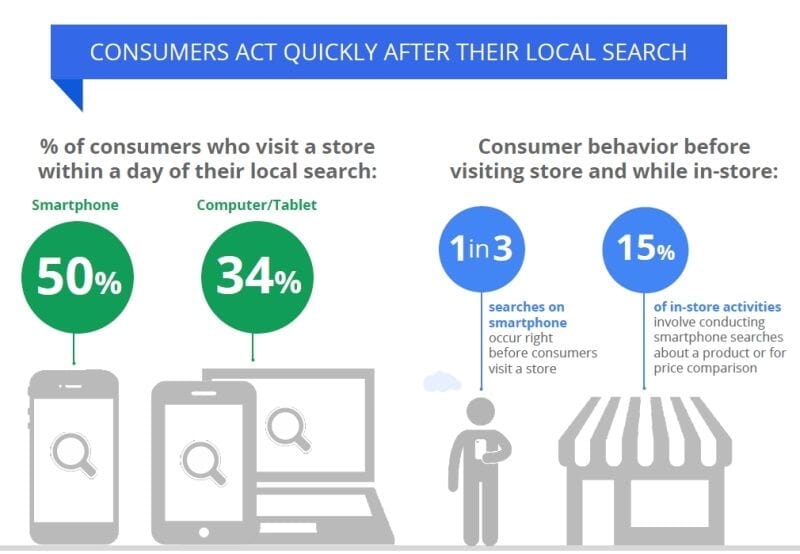 This means that every second person who performs a local search for a product or service comes to the store afterward at the location. Wouldn't it be completely crazy if you just let your competitors get the customers because you don't even show up in search with your own business?
How we can help you
You probably answered "yes" to the last question. A good start, because local search engine optimization is not witchcraft, but is based on solid measures.
Step 1: Before we start with the measures, we analyze the current visibility of your company in local search. All further measures are based on the result of the analysis.
Step 2: Do you already have a Google My Business profile? If not, we will create one for you. The entry is the basis for being findable in the local search. It is important that all relevant information such as company name, categories, opening hours, photos, etc. are stored in the entry. A fully completed Google My Business profile stands for quality and is evaluated accordingly by Google.
Step 3: Even if Google is the most used search engine with more than 90% market share, an entry in Bing Places For Business, the counterpart to Google My Business from Microsoft, is worthwhile.
Step 4: We list your company in selected local business directories that are relevant to you.
Examples of business directories in which an entry is worthwhile:
When registering, we make sure that the name, address and telephone number are consistently spelled the same ("NAP consistency" ) to strengthen the quality and local relevance of your business.
Step 5: Is your website locally optimized or is it clear which products and services you offer at your location? We analyze the search needs of your potential customers and the keywords that are relevant for your business. Based on this, we revise the content of your pages and create new local subpages if necessary.
Step 6: To provide search engines with more information about your business and your products or services, we implement structured data into the source code of your web pages.
At a glance – Our 6-point plan to rank your business in local search:
Analysis of your company's current visibility in local search queries.
Creation and optimization of your Google My Business listing
Optional: Creation and optimization of a Bing Places For Business listing
Entry of your company data in relevant local business directories (Citations)
Optimization of your website or local location pages
Implementation of structured data on relevant pages (usually: home page, imprint and contact, location pages)
What does Local SEO bring you?
You are visible with your company when prospective customers search for your products or services and generate new customers. In addition, you can promote promotions and new products via Google My Business and make them known to your customers.
Furthermore: Both the Google My Business entry and the Bing Places For Business entry are free of charge. So why not take advantage of these excellent opportunities?
We are happy to support you in doing so. As "SEO veterans", this is a matter close to our hearts.