Lesedauer
2
Minuten
Every entrepreneur knows that videos or advertising films can offer added value for companies. However, implementation is then often too complicated, time-consuming and expensive for small companies. This is exactly what YouTube has recognized and has now officially launched the "YouTube Video Creator"tool. YouTube thus simplifies complex video productions. A bit of text and some visuals are enough to get you started. Beautiful templates, music and fonts are offered by YouTube and can be selected simply by clicking. In the end, the whole thing is nicely animated.
Why should you use the tool and what is the point of a corporate video anyway?
Consumption of online videos continues to rise and is expected to reach around 84 minutes a day in Germany in 2020. You can take advantage of this positive trend by making your own video. Besides a video that you can embed on your website or showcase on YouTube, this media content can also be used for Google Ads. Or so that the organic rankings in the field of video SEO or the organic rankings within YouTube are improved.
The first steps to your own image film
Before starting, it is necessary to fill in a form first in order to be activated for it within 1-5 days.
The form for this can be found here:
https://services.google.com/fb/forms/videobuilderbeta/
It goes without saying that you should already have an existing YouTube channel or at least have registered for one.
As soon as the activation is done, you can use the tool. The info comes in the mail from Google.

And this is what it looks like once you get access: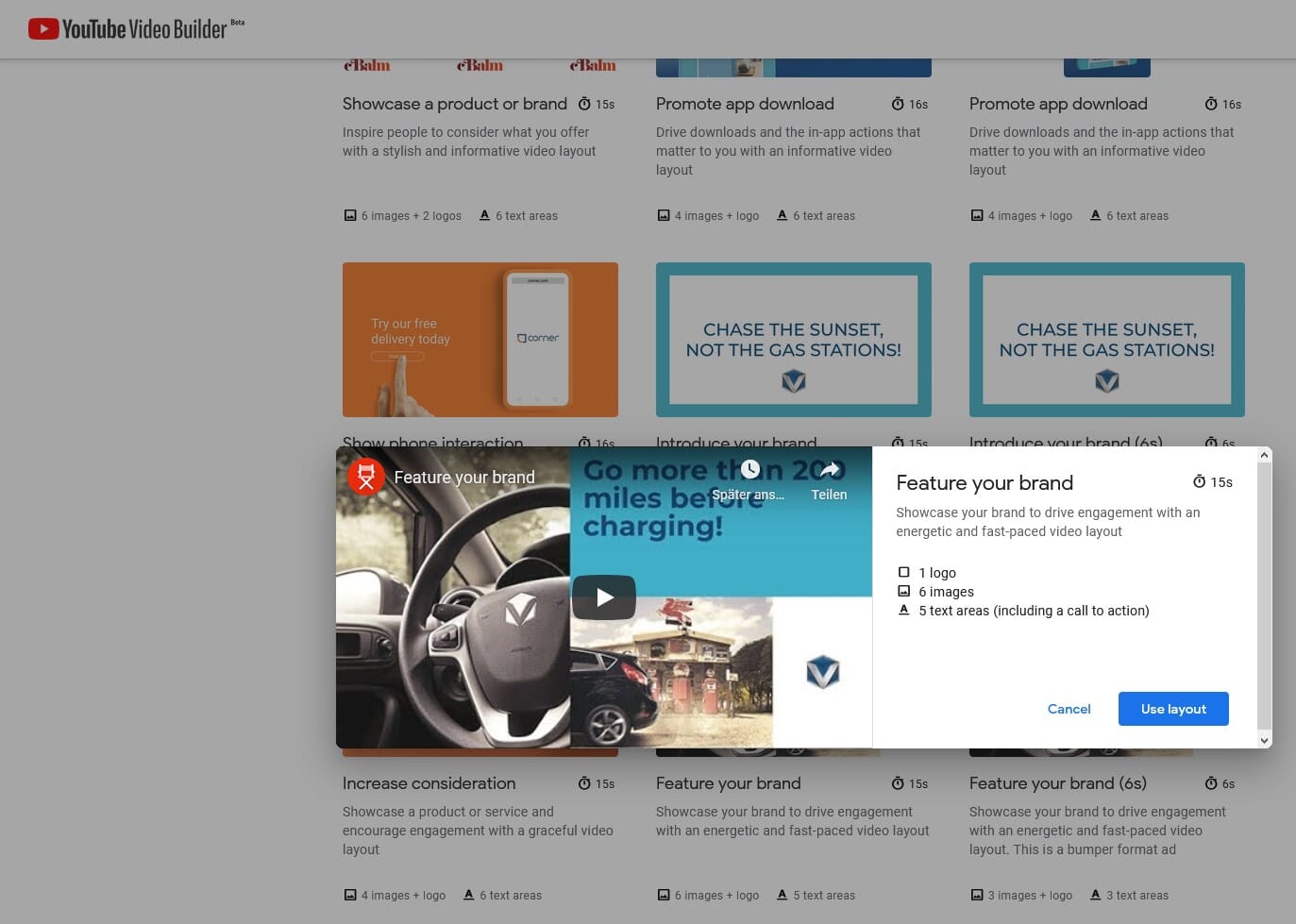 For the creation of the video, you are guided comfortably and user-friendly through a menu where you can choose in order the layout, color and logo, images and texts, font and music. With a few clicks of the hand and depending on your own requirements, the image video is created relatively quickly and ready for use.
Here in the video again the explanation about it from Google (in English)
Conclusion: An easy way to get started with commercials
Even if the videos can't compete with professional image films, they are a nice start – especially for small companies with little time or budget. Since the videos can have a length of 6 seconds, among other things, these are also additionally suitable for bumper videos that can be advertised in Google Ads and additionally allow to be found in Google or YouTube. or budget.
Especially in the current situation where companies have to shift more and more of their business towards online, this is a great additional option to create reach and awareness.
More content and technical resources on the video tool come from Google directly:
https://www.blog.google/products/ads/youtube-video-builder/
https://support.google.com/google-ads/answer/9817215